There are a lot of straight lines in a room, from the big elements like the walls, ceilings and floors to the smaller elements like windows and trim work. With all those straight lines, interior designers often want to add curves when designing their window treatments to soften, add height, or highlight an architectural element.
Curves
From a mathematical standpoint, a curve is just part of a circle. When we consider the vertical plane, a scallop is the simply the bottom curve of a circle. Flip it upside down and it becomes an arch. Curves can be on the horizontal plane of the room, too. An example of a curve that pushes out of the room is a bow window. And there are valances and drapery rods that have curves that push into the room.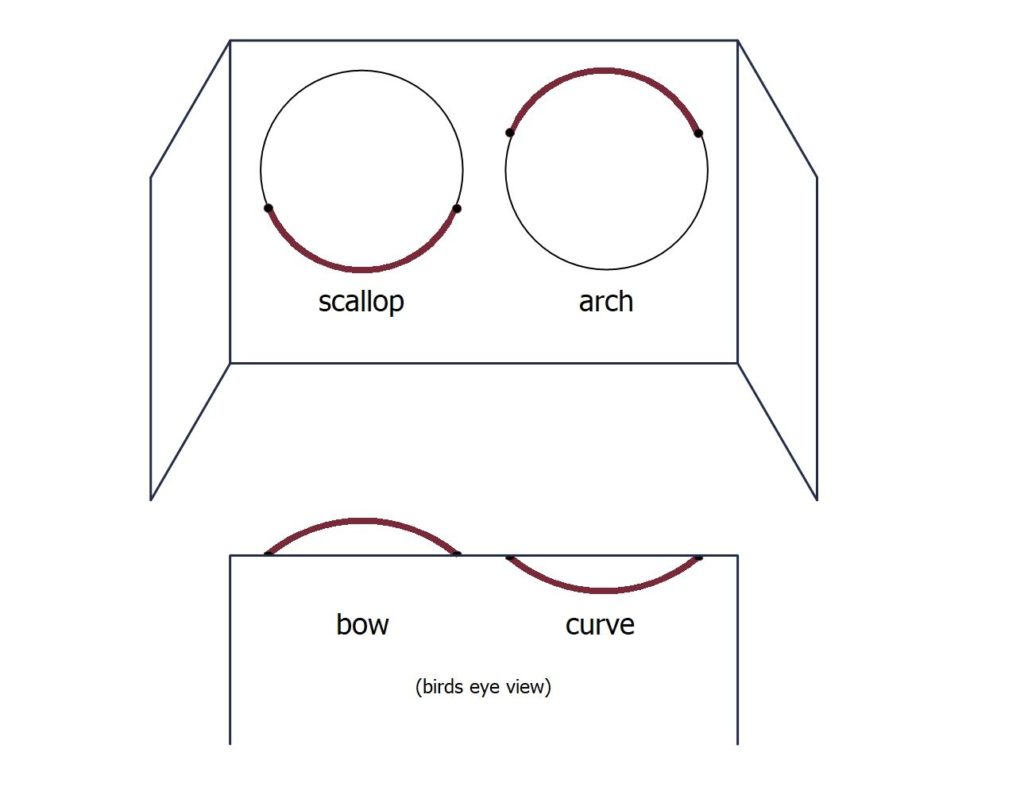 The shape of the curve is based on its width and height. As the designer, you know how wide the window is (the width) and you may specify the short point and the long point of your window treatment (the height) to maximize the view and/or ensure the scale and proportion of the window treatment . From there, it is a matter of geometry to draw the curve to those exact specifications. Do you remember using a compass in geometry class? No worries! We do and we have the tools to make curves of all shapes and sizes.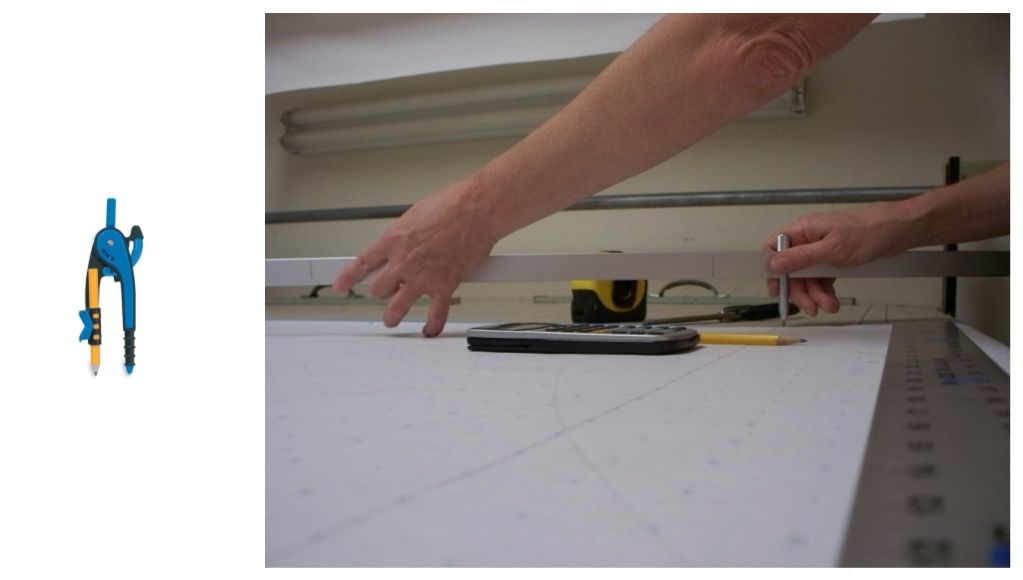 Window Treatment examples
But enough of the math lesson — let's take a look at some examples of how curves are used in window treatments. Arches, scallops, and bows can be incorporated into almost any style from tailored valances and casual relaxed romans, to formal swags and classic drapery panels.
This arched top valance with hand smocking provides a focal point on the arched window in the powder room.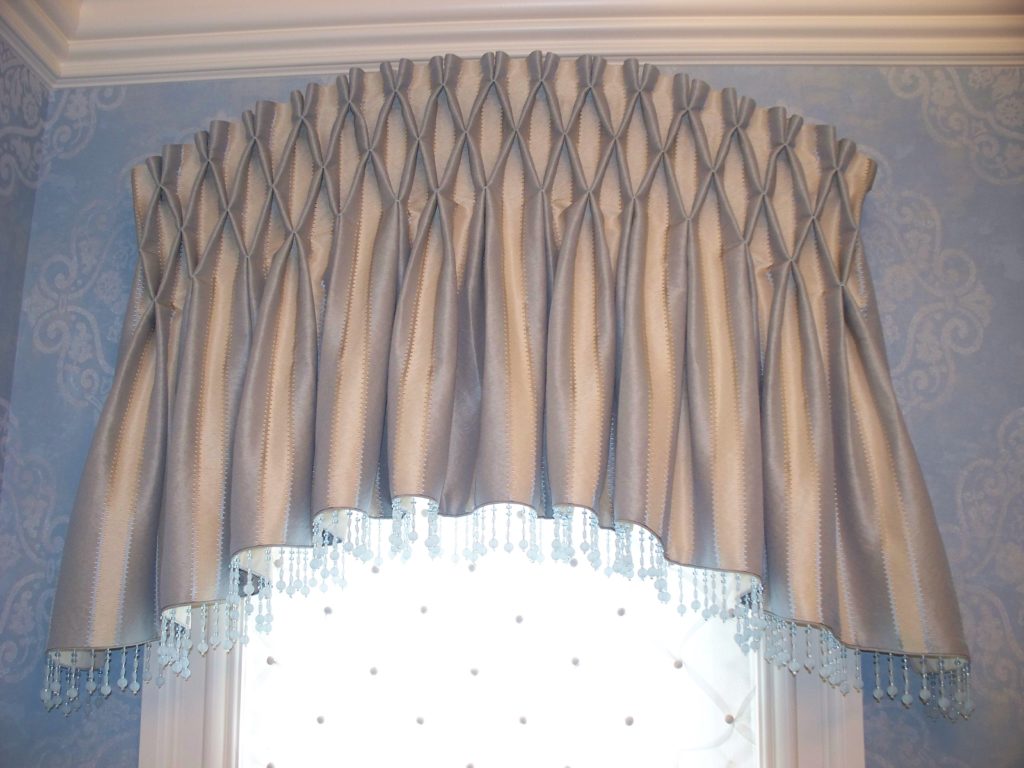 Here arched top Moreland valances are mounted on standard windows. The valance shape mirrors the shape of the center arched window.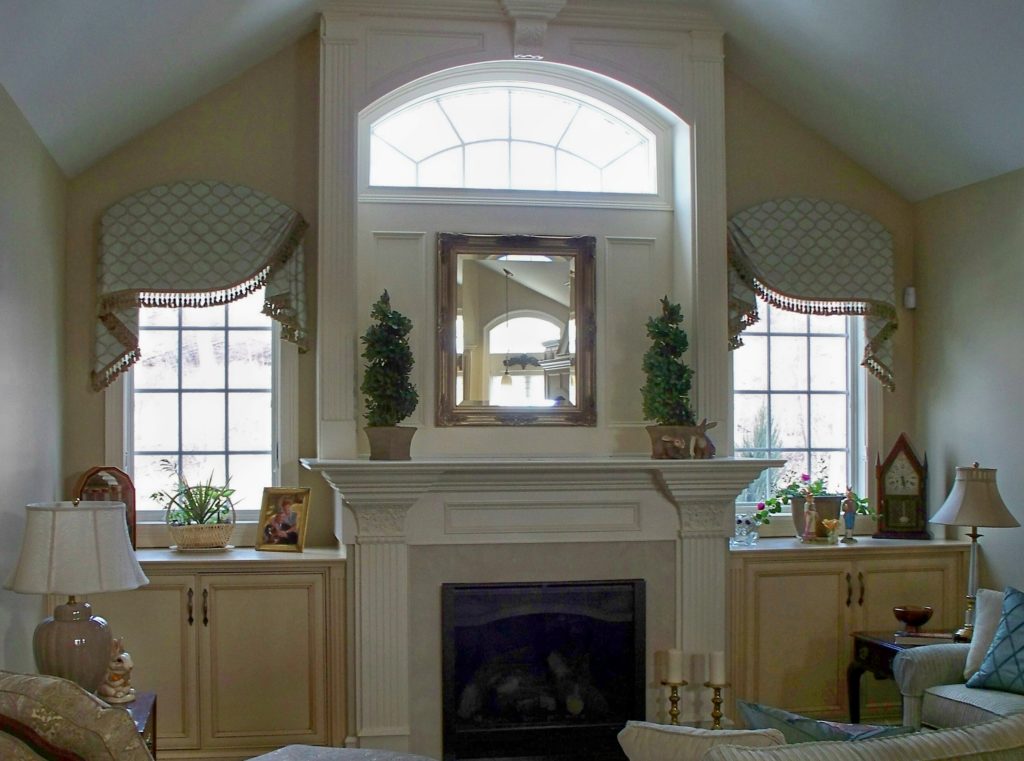 An arched hem shape on this tailored kick pleat valance softens the lines in this reading nook.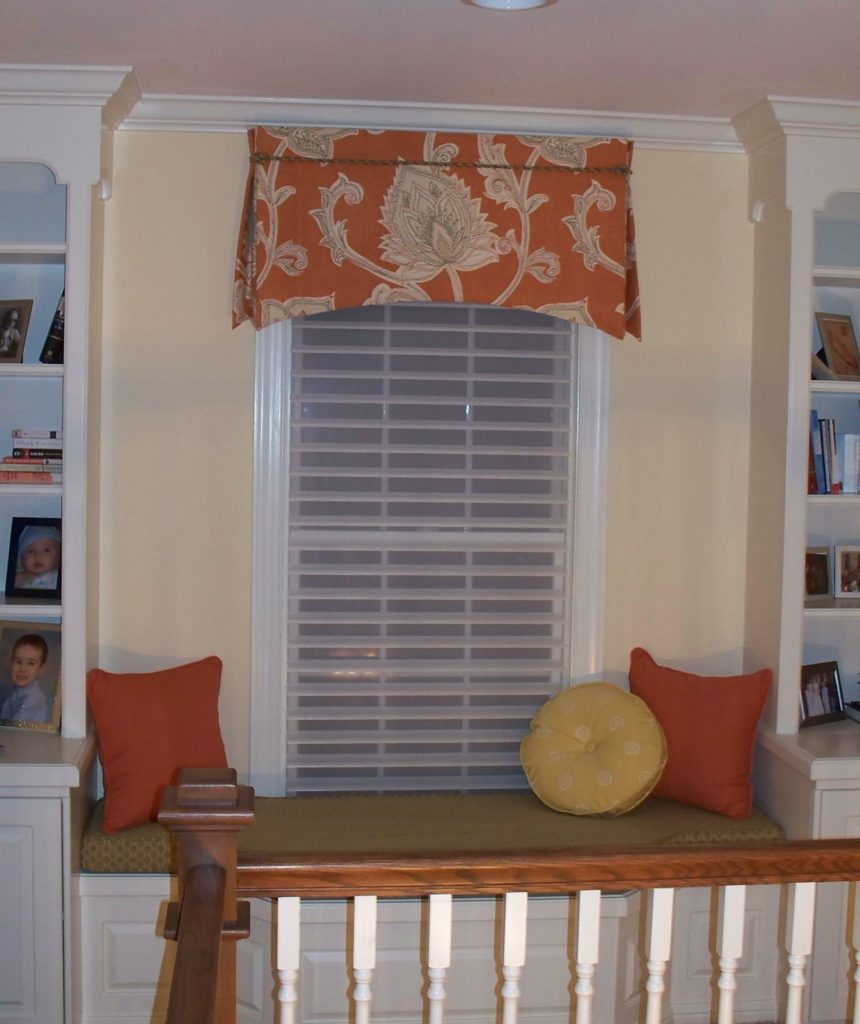 The serpentine hem shape (with alternating arches and scallops) on this awning valance helps moves the eye around this dinette.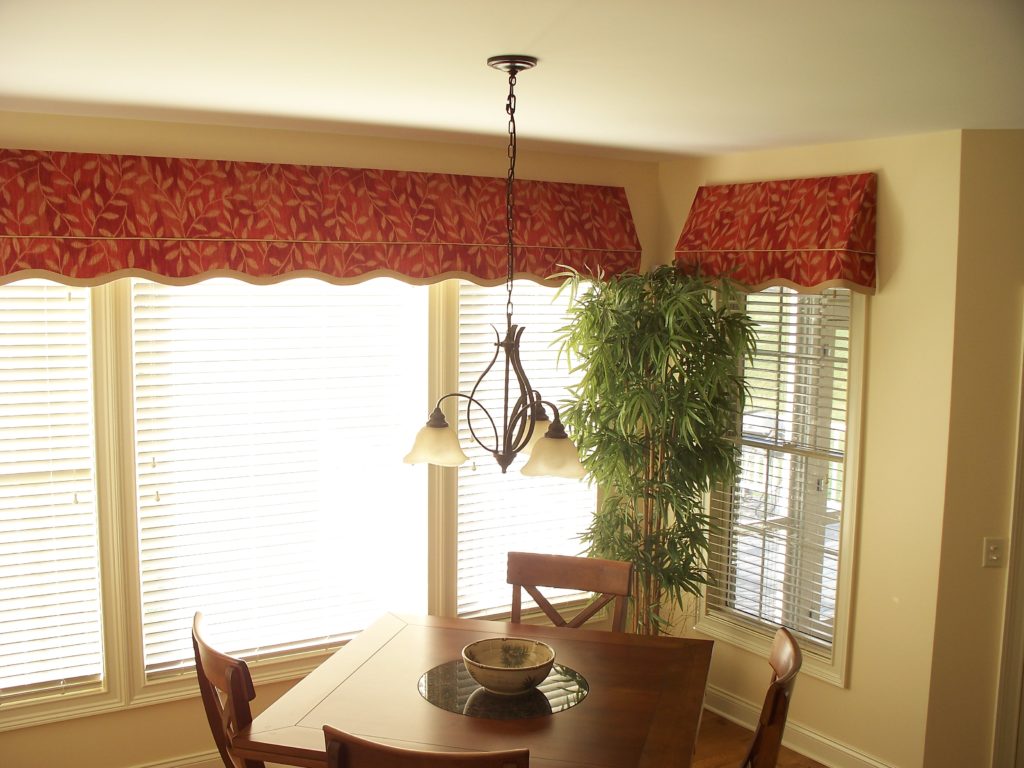 Arched top relaxed roman shades and the two story stationary drapery panels add warmth in this high ceiling family room.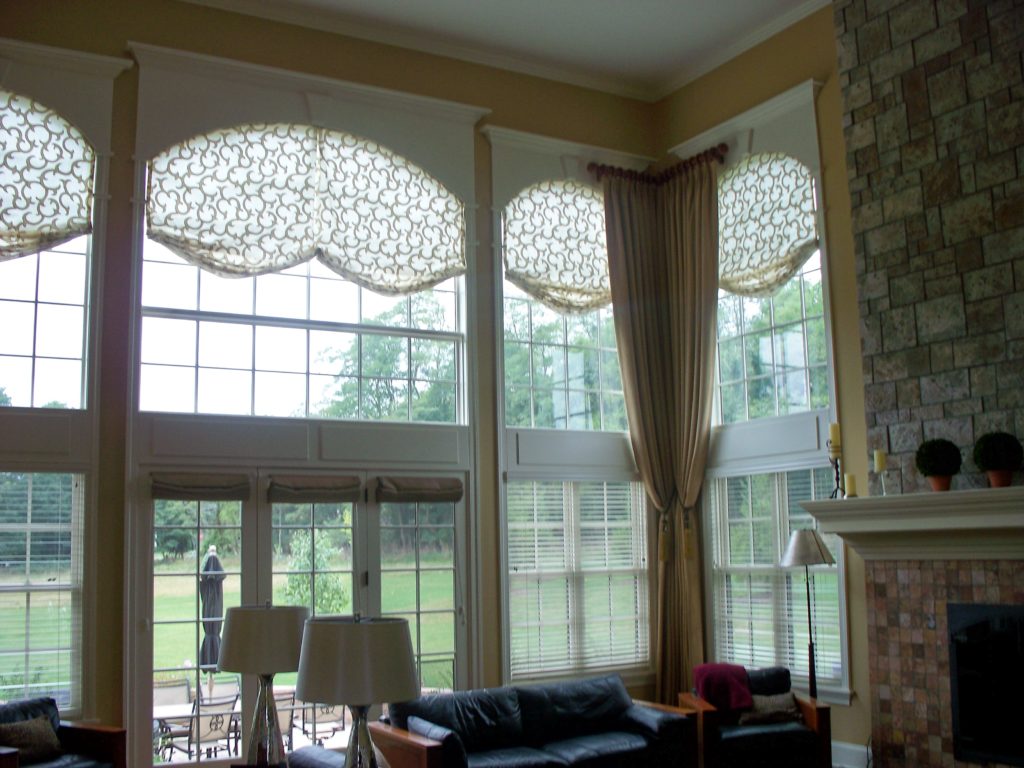 Wrought iron drapery hardware is custom bent to the shape of the arched transom window in this transitional dining room.
The mount board for this 12 foot wide box pleat valance follows the curve of the bow window in this office.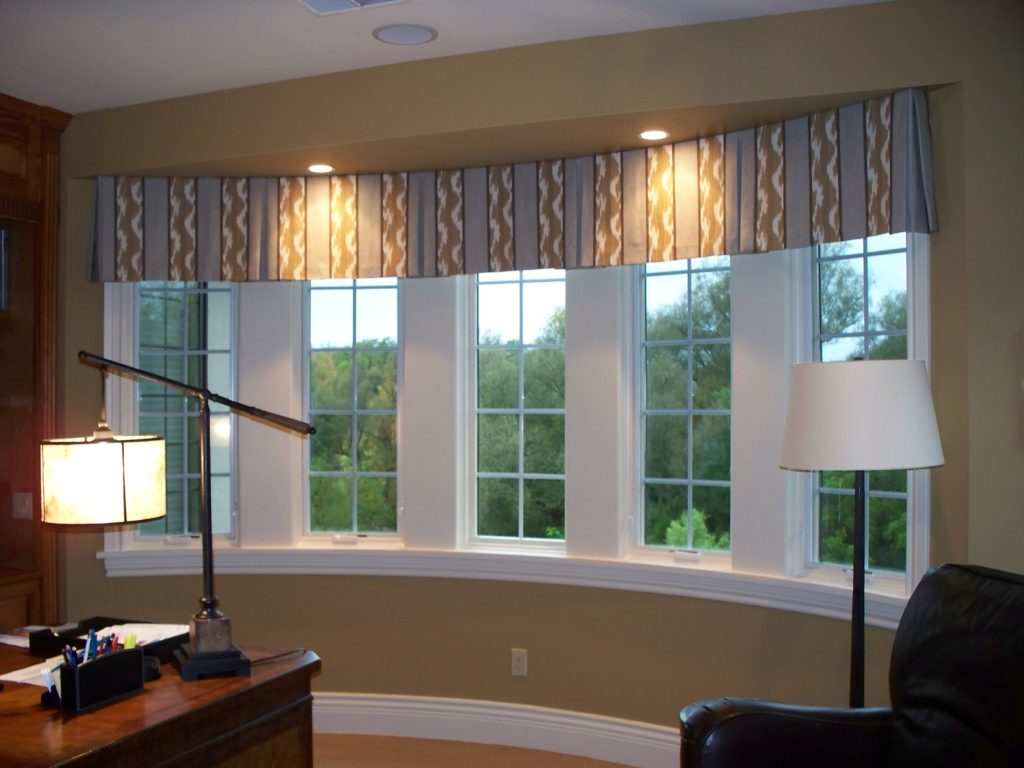 These traditional swags and jabots follow the arched architecture at the window in this formal dining room.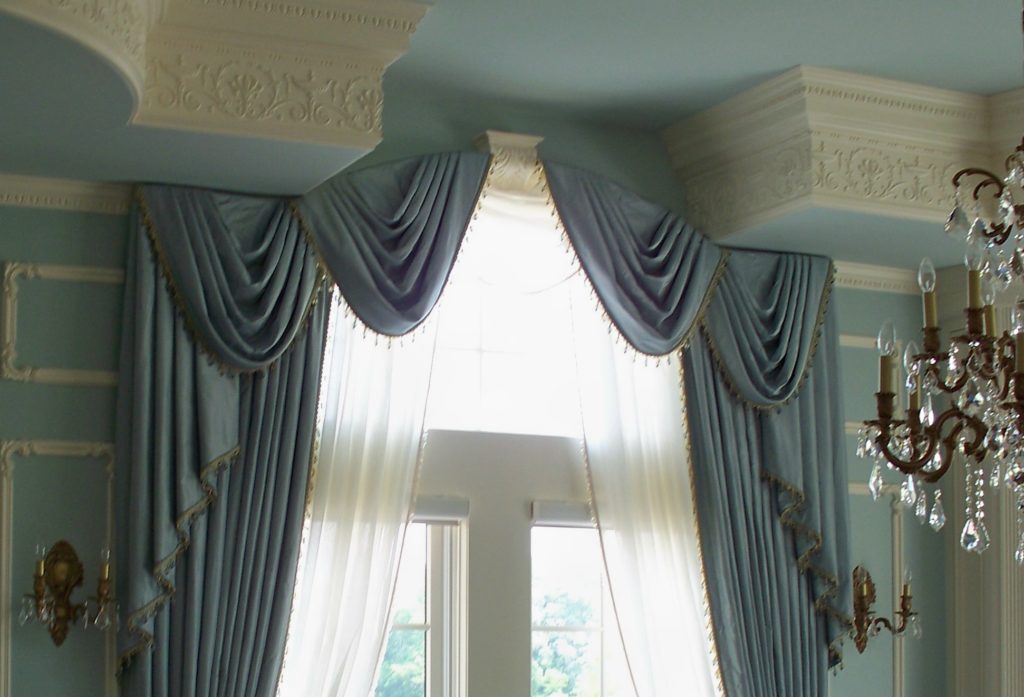 We partner with design professionals who have the vision but need an ingeniously engineered solution. So the next time curves (in any shape or form) are part of your window treatment design, contact us to get started.