The Challenge:
We love a challenge and this pergola canopy project was just that! Bev Dyminski of Bev Dyminski Interior Design had a client who was having a pergola built on their back patio.
The pergola needed a cover to provide shade. The solution had to take into account the structure's design and also stand up to the outdoor elements of sun, wind, and rain.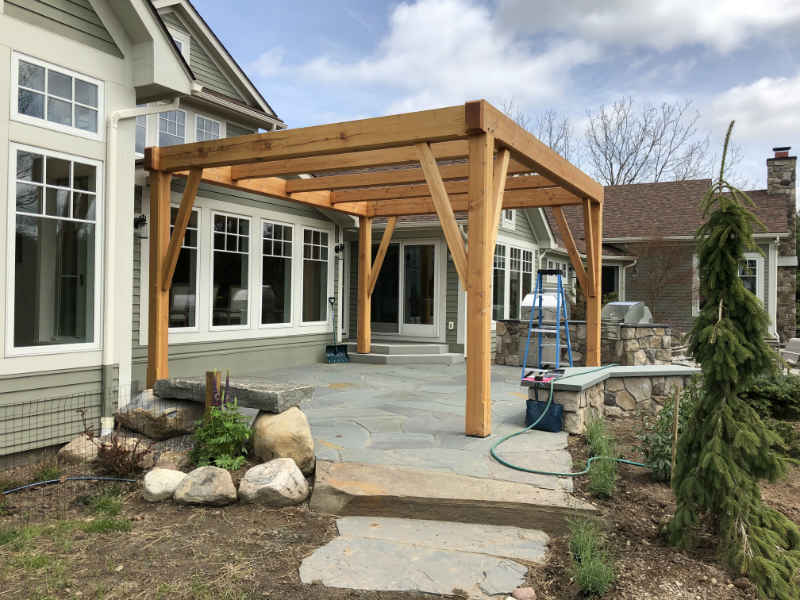 The Research:
We consulted the marine and outdoor living experts at Sailrite and found the supplies and guidance needed. We chose Phifertex Plus for the canopy material. Phifertex Plus is a 100% vinyl-coated polyester mesh fabric that allows rain to drain through but is engineered for exceptional sun-blocking capabilities with its tight weave.
It is coated with an anti-microbial protector to prevent the growth of mold and mildew. We used high-performance Profilen thread that has a lifetime guarantee and is 100% UV and weather resistant. And we used aluminum and stainless steel structural components.

"Phifertex Plus is engineered for exceptional sun blocking capabilities"
The Fabrication:
Due to the structure's design, we fabricated four canopy sections with six scallops per section. The client wanted to make sure that when the canopy was opened that the scallops did not block the view from the dinette area in their house.
This requirement helped determine the spacing and fullness for the scallops. Aluminum tubing was used to define each scallop and the sections were attached to tensioned wire with stainless steel snap hooks. The snap hooks make for easy installation and also easy take-down at the end of the season.
The Results:
Bev's clients (and Bev!) were thrilled with the results. The canopy was completed in time for their 4th of July gathering and will be enjoyed for many summers to come. If you have a challenging project coming up, leave the details to us.
Our award-winning workroom is uniquely equipped to handle every aspect of all projects great and small.  We partner with design professionals who have the vision but need an engineered solution. Contact us to get started.