Visualize It
Being able to see something or experience the end result is key in triggering loss aversion. That is why 100% satisfaction guaranteed offers are so successful. The customer experiences ownership and does not want to lose it.
So how does this relate to your interior design business and the selling of custom window treatments? Any time you can get your client to visualize themselves using and owning a product, loss aversion and perceived ownership increases.
Scale Drawings – Multiple Designs
Our scale drawings are a great tool to help your client visualize your design and can be used in several ways. You can show your client multiple options for window treatment styles.
The examples below show the three styles presented to this client: a straight box pleat valance with inset trim at the hem, a serpentine shaped valance, and a faux roman shade with inset trim on three sides.
Even though the faux roman shade with inset trim was the most expensive, that was the client's final choice. Visualization and loss aversion were certainly factors in this decision. Check out the after photo…. We think the client made a great decision, don't you?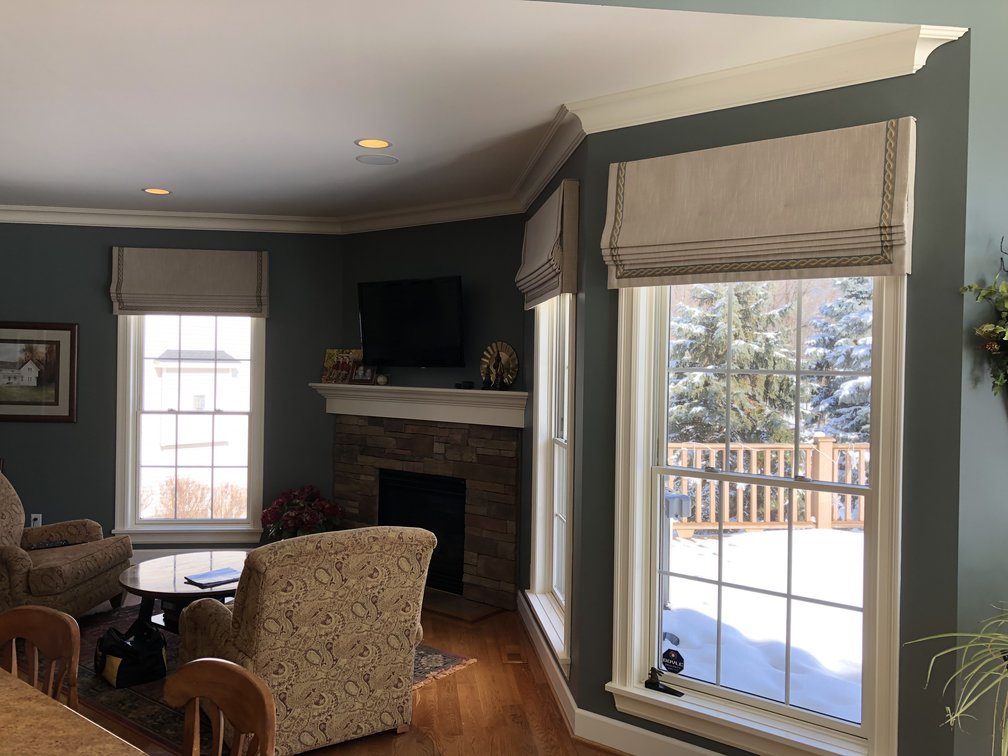 Scale Drawings – Multiple Fabrics
Our scale drawings can also be used to help your client visualize different fabric options. Here are two examples of stationary drapery panels in different fabrics.
This client chose the solid fabric with inset leading edge trim. Another excellent decision!
Scale Drawings – Finished Dimensions and Installation Instructions
A third way our scale drawings are used is to finalize finished dimensions that are used when fabricating the window treatment and to provide detailed installation instructions for our installers.
This line drawing shows the finished width, long points and short points for these shaped box pleat valances. We used these dimensions when drafting the pattern so the finished valances would look just like the scale drawing. The installation instructions were taken off the scale drawing so our installer knew exactly where the valances should go on installation day.
What the client is saying
The designers we partner with are always telling me what a valuable tool our scale drawings are. But don't take my word for it. Patty U. recently emailed her designer to move forward with her window treatment project by saying "Seeing the fabric on the windows definitely helped me to make a decision".
Parkway Window Works serves interior design professionals and we are the only to-the-trade workroom in the region that provides the service of scale drawings. If you want to help your clients say yes (partly because they can't bear to lose your design vision), contact us to get started.