Just as high fashion clothes need proper undergarments for support and coverage, so too, do high quality window treatments. Custom drapery linings are the undergarments of window treatments and perform many functions.
Drapery linings can:
Protect the face fabric from sun damage
Provide insulation from summer heat and winter cold
Enhance noise reduction
Provide privacy and light control
Improve body and hand of the fabric
Provide uniform appearance from the outside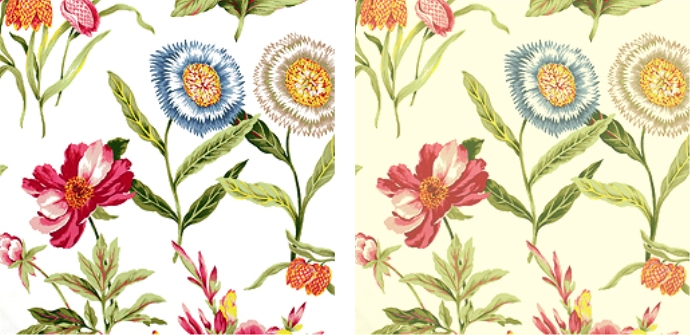 Sateen Drapery Lining
The most basic drapery lining is a good quality sateen. A satin weave is more pliable than a plain weave. My go-to lining is a 100% cotton sateen in pale ivory. This is the equivalent of wearing a slip under your dress (fellas–use your imagination!). The lining protects the face fabric and gives body to the treatment.
If the face fabric is white or has a white background, it is important to choose a white colored drapery lining so there is no yellowing of the face fabric. Sateens are also available in tan or putty. Colored drapery linings differentiate custom window treatments from ready-mades and also have nice curb appeal on dark colored or brick homes.
Drapery Interlining
Interlining is a lining that is sandwiched between the face fabric and the drapery lining. Interlining is primarily used to add body and give a rich elegant look, particularly when used with silk.
The interlining layer can be heavy flannel, English bump, or a 3-layer woven blackout. If you have budget or space constraints and can't use multiple width panels, consider adding a layer of interlining to help plump up single width panels.
Another option for the budget conscious client is to use a napped sateen lining with silk. Napped sateen is a sateen lining that has undergone additional processing to brush and raise the fibers on one side. Silk with napped sateen looks much better than silk with only a basic sateen. However, it is NOT a replacement for interlined silk draperies!
Blackout Drapery Lining
Traditional blackout linings contain several layers of acrylic foam. The layers block light and provide excellent thermal insulation. In recent years, there have been several advances in blackout linings. They are more fluid and better draping, but they still have a drawback when used in roman shades.
Pin holes are formed when rings are sewn on the shades. One option to overcome this is to use the technique known as French blackout. This is a design where there are four layers in the window treatment: face fabric, interlining, black sateen, ivory (or white) sateen.

As a custom workroom to the trade, I stock many different drapery linings and special order as needed. I discuss lining choices with my designer clients and quote the best fit for each project/end customer. But I have been known to switch linings (after talking to the designer) during the fabrication process. After seeing and touching the face fabric, I just can't let a window treatment experience a wardrobe malfunction!
Parkway Window Works is an award-winning workroom. Our fabrication expertise and attention to detail are what truly sets us apart. If you want recommendations for proper lining on your next drapery project and a workroom that will ensure proper scale in your drapery panels when fabricating, contact us to get started.