With our current reality of social distancing and work-from-home orders, you and your clients may be getting cabin fever. But Spring is here and Summer is right around the corner. Now is the perfect time to think about getting ready for outdoor living. Does that screened-in porch or outdoor patio need a refresh? Do your clients have cushions and pillows that need replacing or recovering? You can do your fabric selection virtually and mail swatches to your client's home for final decisions. Existing cushions can be left at the doorstep for no-contact pick-up and delivery.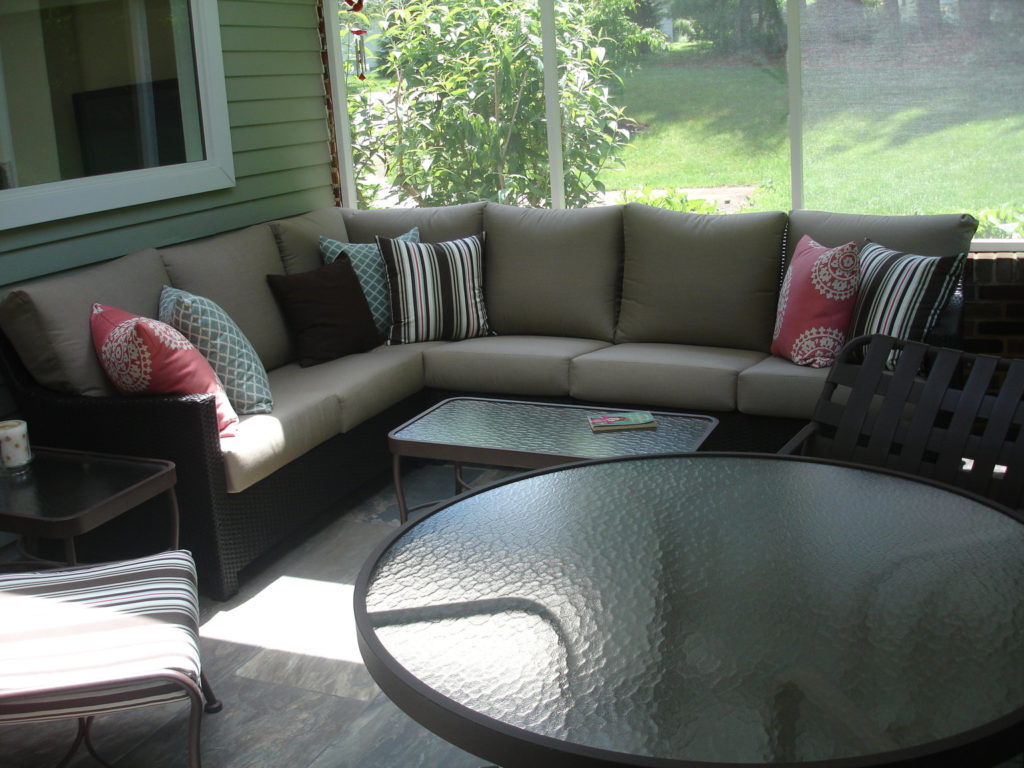 Types of Outdoor Fabric
Choosing the right fabric for your outdoor project can really affect its longevity. All outdoor fabrics are not created equally. There are three main types of outdoor fabric: solution-dyed, yarn-dyed, and piece-dyed. The difference has to do with how color is added to the fabric.

Color is added to solution-dyed fabrics as the fiber is being made. Solution-dyed fibers are like a carrot. The color is as rich and saturated on the inside as it is on the outside. With yarn-dyed fabrics, color is added after the fiber has been spun into yarn. This is like a radish. The radish has a beautiful red color on the outside but is white and colorless on the inside. Color is added to piece-dyed fabrics after the yarn has been woven into fabric. Think of the woven fabric as a slice of bread and the color as jelly on only one side of the slice.
Which kind of outdoor fabric is better?
100% solution-dyed acrylic is the gold standard. It is rated for 2000+ hours in direct sunlight before fading. If mildew does occur (due to dirt), the fabric can be cleaned with a bleach and soap solution without damaging the colors. Sunbrella is the most recognized brand of solution-dyed outdoor fabric. Perennials is another excellent line of solution-dyed outdoor fabrics.
Yarn-dyed and piece-dyed outdoor fabrics are rated for 300-800 hours in direct sunlight before fading. Mildew can be removed using soap and water or by dry cleaning. Dralon is a brand name of yarn-dyed fibers used by some outdoor furniture lines. All three kinds of fabrics have their place in outdoor settings. I recommend using solution-dyed acrylic for large elements like cushions that are harder to remove and for any elements that are in direct sunlight such as on a deck or around a pool. Yarn-dyed and piece-dyed fabrics are ideal for accents and pillows and in covered settings like screened-in porches.
How can your tell the difference when selecting outdoor fabrics?
Piece-dyed fabrics are easy to spot because they are printed on only one side. You will see bold, vibrant color on the right side and muted colors showing through the base cloth on the wrong side. The two fabrics shown below are examples of piece-dyed fabrics.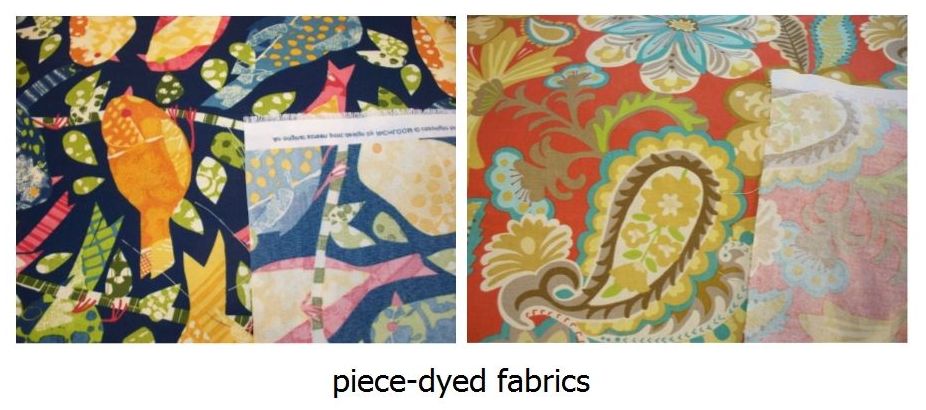 Yarn-dyed fabrics and solution-dyed fabrics have woven patterns so the color is the same on both sides. Sometimes the pattern is identical on each side and other times, because of the weaving process, the pattern is a negative image. Below are four fabrics I used for an outdoor project. Three of them were solution-dyed fabrics and one was yarn-dyed fabric. The only way to tell the difference is to check the specifications. Because solution-dyed is the gold standard, fabric companies usually highlight this in their specifications or fact sheets. The green ikat, mushroom solid, and brown stripe are all solution dyed outdoor fabrics. Only the peach mandala is a yarn-dyed outdoor fabric.
Parkway Window Works serves interior design professionals. We are here to support you. Don't get burned when choosing your next outdoor fabric.  Remember the carrot (and 100% solution-dyed fabrics)! If you need recommendations on outdoor foam or cushion styles to minimize mildew, contact us. We'll guide you through the process so that your clients will be ready to get outdoors and enjoy the good weather. It will be here sooner than you think!