Why choose plantation shutters? There are many benefits to choosing plantation shutters for your design projects.
Plantation shutters are timeless, offering a classic aesthetic for nearly any decor. The craftsmanship in the materials and finishes offers long-wearing durability. This ensures your clients will enjoy their shutters for years to come.
They're also one of the most versatile window coverings on the market. Plantation shutters can be ordered in nearly any size or shape, for any door or window. They allow your client to preserve the view from the window without sacrificing privacy.

Factors to Consider When Choosing Plantation Shutters
When specifying plantation shutters for your clients, there are several things to keep in mind. Consider the following factors to choose the perfect shutter.
Material
Plantation shutters are available in hardwood, vinyl, and composite. Which is best for your client's windows?
Hardwood
Hardwood plantation shutters are high quality, and genuine hardwood will last a lifetime. Wood is naturally beautiful, with its inherent grain and texture. Unlimited color choices (including custom match painting) and the unique knotty or distressed finishes ensure one-of-a-kind shutters for your clients.
Vinyl
Vinyl is UV-resistant and prevents warping, cracking, fading, chipping and peeling. These are ideal for high humidity climates, and wet environments such as showers and steamy bathrooms.
Composite
Composite plantation shutters provide the rich look of wood with the strength and durability of vinyl. They are perfect for high-energy family households, where enthusiastic play of children and pets are part of the daily scene.
Colors
Plantation shutters are available in a wide variety of colors to match any decor. Whites and off-whites, solid colors, light and dark stains, as well as custom paint match are available.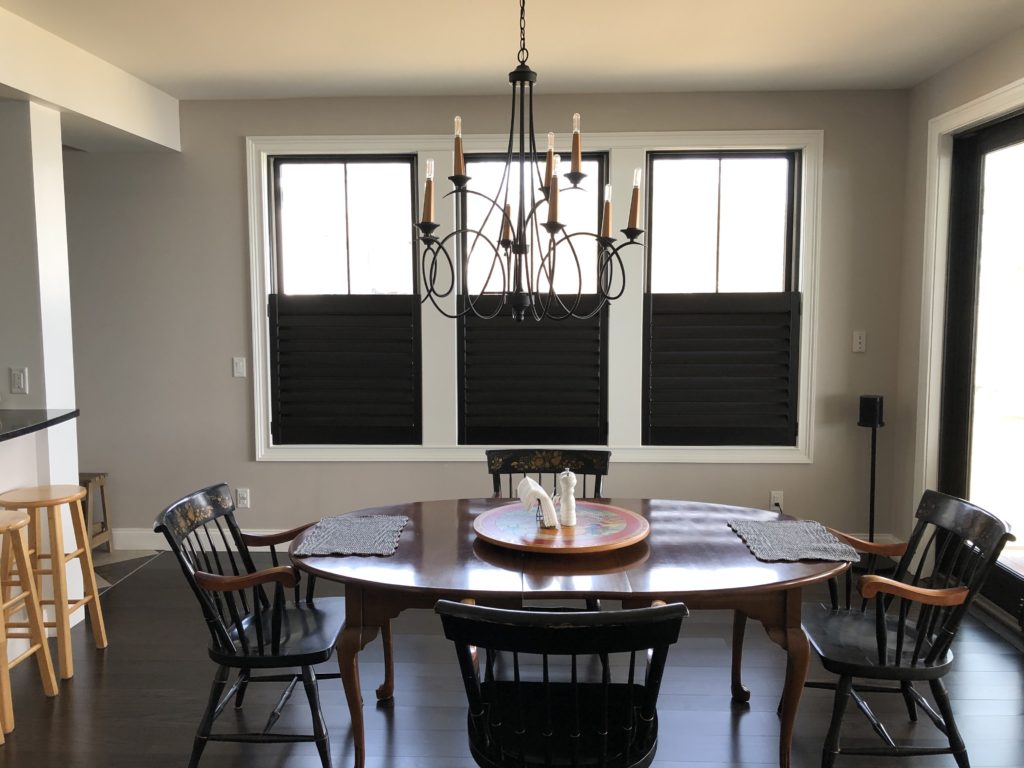 Louver Size
While plantation shutters are available in 2-½", 3-½" and 4-½" louvers, 3-½" is the most popular choice. The louver size affects the view through. The large larger the louver size, the farther apart the louvers are and the fewer louvers are needed. This provides greater view-through when the louvers are set fully open.
The scale of the window is another consideration. Smaller windows may look better with the smaller scale 2-½" louver size and 4-½" louvers may be the best choice for large openings and multiple windows.
Frames
Your clients can choose from traditional and contemporary style options.
You should use frames on windows that do not have enough inside mounting depth for your preferred louver size. Frames can also camouflage any gaps or imperfections in the window opening (like being slightly out of square or wider at the top and and narrower at the bottom).
Frames accommodate tilt-in windows, cranks on casement windows, and locking mechanisms on windows. They can also create the look of a decorative trim on windows that do not already have an existing trim.
Or, you can opt for no frame at all — where the shutter is directly mounted to the existing window trim.
Customization Options
There are many customization options available when choosing plantation shutters, so you can offer the perfect solution for your client's windows.
Plantation shutters are available with a traditional front tilt bar, an unobtrusive rear tilt bar, or a hidden tilt, where the tilt mechanism is located inside the shutter and not visible at all.
You can also customize the hinges of your plantation shutters. Hinges can be painted to blend with the shutter color, or choose bold colored hinges to contrast with the shutter.
Split-tilt shutters are another popular customization option. This is where one group of louvers operates independent of the rest of the louvers. This is perfect for when your client wants to keep the bottom louvers closed for privacy and the top louvers open to let light in the room.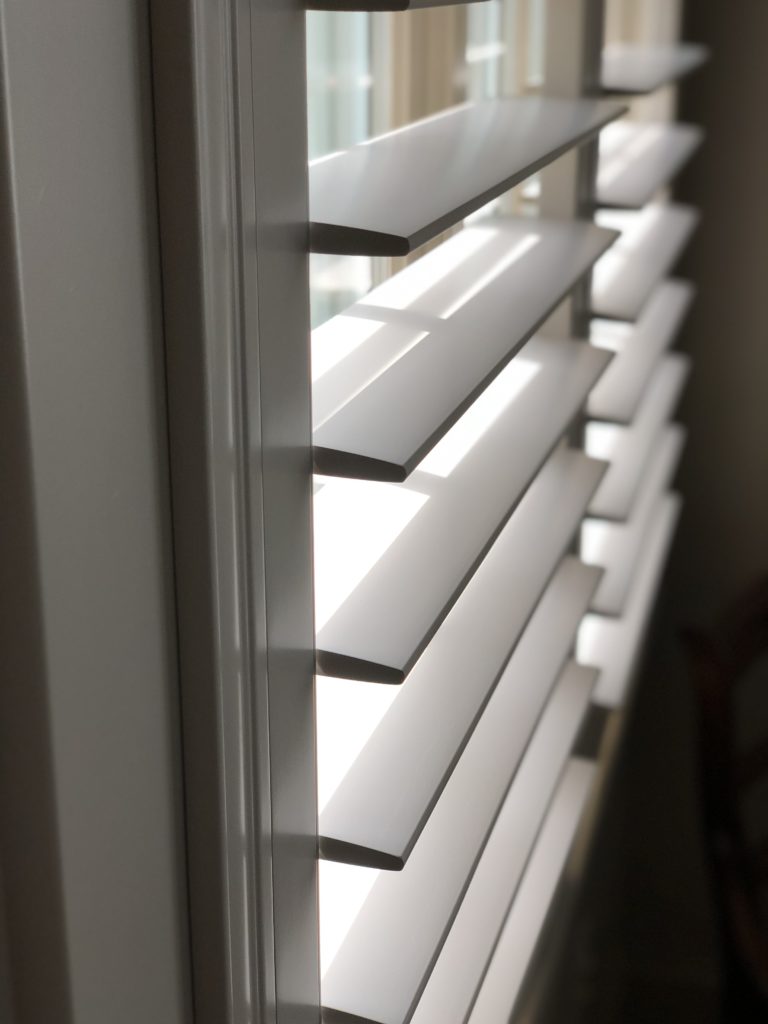 Specialty Shapes
Shutters are truly versatile.  They can accommodate almost any window shape from rectangular openings, arched tops, angle tops, triangles, ovals, circles, and octagons to sidelight windows, sliding glass doors, French doors, and skylights.
Motorization
Motorization improves every window treatment and shutters are no exception!  The convenience of motorized tilting of the louvers is perfect for those hard to reach windows, such as high windows or windows behind a bathtub or sink.
Professional Measure and Installation
One note of caution — it is important to choose an experienced professional to measure and install your shutters for the best outcome for you and your client.  Shutter mistakes are expensive to correct!
Are you ready to start recommending plantation shutters to your clients?
We are here to support you! You can bring your client to our Designer Consultation Space to see and operate full size shutters. We will help you every step of the way from the measure to the installation to all of those many, many decisions in between. Contact us today to get started.