Are you enjoying the summer sun? At this time of year, we may be soaking up the sun outdoors, but we still need to protect our interiors from the sun's harsh UV rays. Window treatments are the answer! Window Treatments can offer summer sun protection. They add color, texture, and softness to a room's decor. In addition to their beauty, window treatments can stand up to the elements and protect your interiors from the sun.
Today we'll explore different window treatment options for sun protection.
Hunter Douglas Palm Beach Shutters
Bring on the heat! Hunter Douglas Palm Beach shutters are made of a durable UV-resistant polysatin material, and are made to withstand direct sun and high temps. This material resists warping, cracking, fading, chipping, and peeling when exposed to intense sunlight and moisture. They offer great light control. Tilt the louvers to direct the sun up or down, or fully closed them to block the light altogether.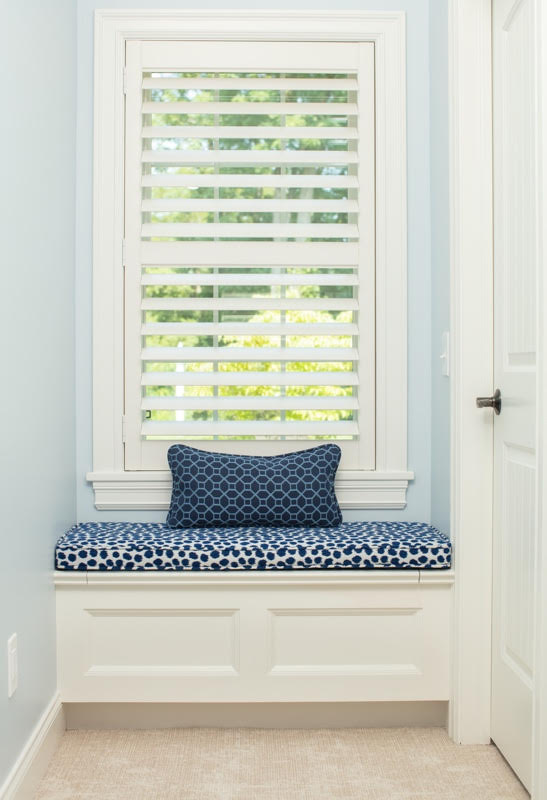 Solar Shades (Also Known as Screen Shades)
Solar Shades are particularly perfect for patios and sunrooms. They allow you to maintain your outdoor views while also providing UV protection, curbing harsh rays to protect your works of art, flooring, and furniture. Solar Shades are available in a variety of openness factors, allowing you to determine the amount of privacy you desire.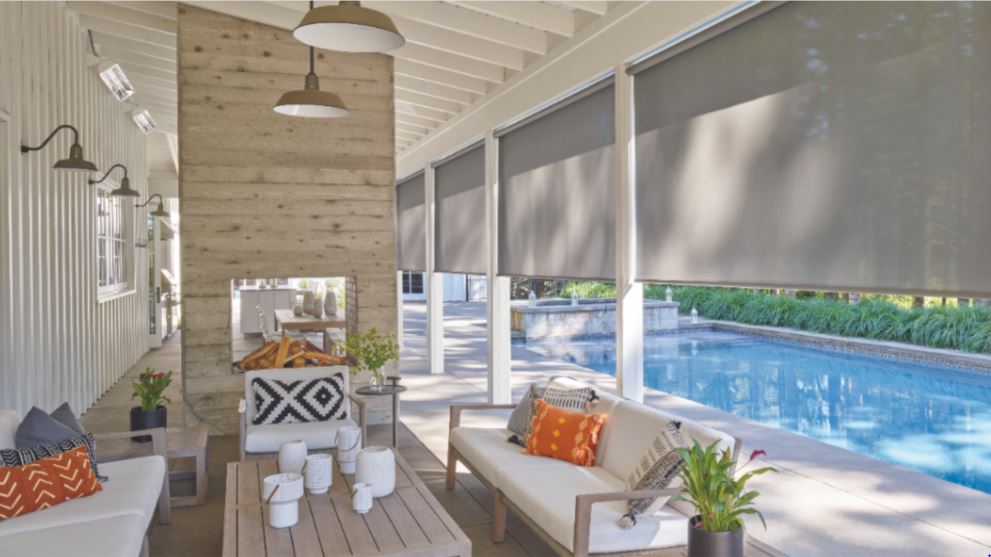 Draperies & Roman Shades
White linen window treatments are hot right now (pun intended!). Perfect for an easy breezy summer vibe, drapery lining is the key to providing sun protection for the interiors and the drapery material. There are many options for drapery lining including color, opacity, fiber content, and weight. Parkway Window Works stocks a wide selection of linings, and we can also special order to our designer's requirements. We'll help you select the appropriate lining for light control (sheer, light filtering, or blackout) and UV protection (poly versus cotton).
Hunter Douglas Silhouettes
Hunter Douglas Silhouettes have an S-shaped vane floating between two layers of sheer fabrics. This allows light to filter through. At the same time, this obscures the outside world's view into your client's space. Two layers of sheer fabric filter up to 88% of the sun's harmful UV rays. These shades really have it all–view through, UV protection, and privacy when the vanes are closed.
As you design window treatments this summer (and through-out the year), remember to keep the sun in mind. While we enjoy the bright, warming light, the sun's UV rays can also be damaging to furniture and flooring. Window treatments offer a layer of protection in addition to their beauty.
Parkway Window Works is here to help you sell window treatments with complete confidence and get your clients excited about investing in window treatments they'll love—and at the same time add higher profits to your bottom line. We'll help guide you through all the options when choosing window treatments for sun protection. Ready to partner with us? Contact us to get started.