Summer is right around the corner. Your clients are probably thinking about how their outdoor living areas could be upgraded for holiday BBQ's graduation parties, family reunions, and other outdoor gatherings. As an interior designer, you can upsell your clients by reminding them that you don't just design beautiful, comfortable, and luxurious interiors. You can design their outdoor areas, too.
Designing for the outdoors does require some additional considerations, including using the right materials and experience when it comes to specification and installation. Here are a few ideas and products for when you are designing for outdoor living.
Choosing Outdoor Fabrics
There are three main types of outdoor fabric: solution-dyed, yarn-dyed, and piece-dyed. The gold standard for outdoor projects is 100% solution-dyed acrylic. Rated for 2000+ hours in the direct sun, you'll be enjoying your outdoor products for years to come. Yarn-dyed and piece-dyed outdoor fabrics are rated for 300–800 hours in direct sunlight before fading, and are ideal for accents and pillows only.
Outdoor Cushions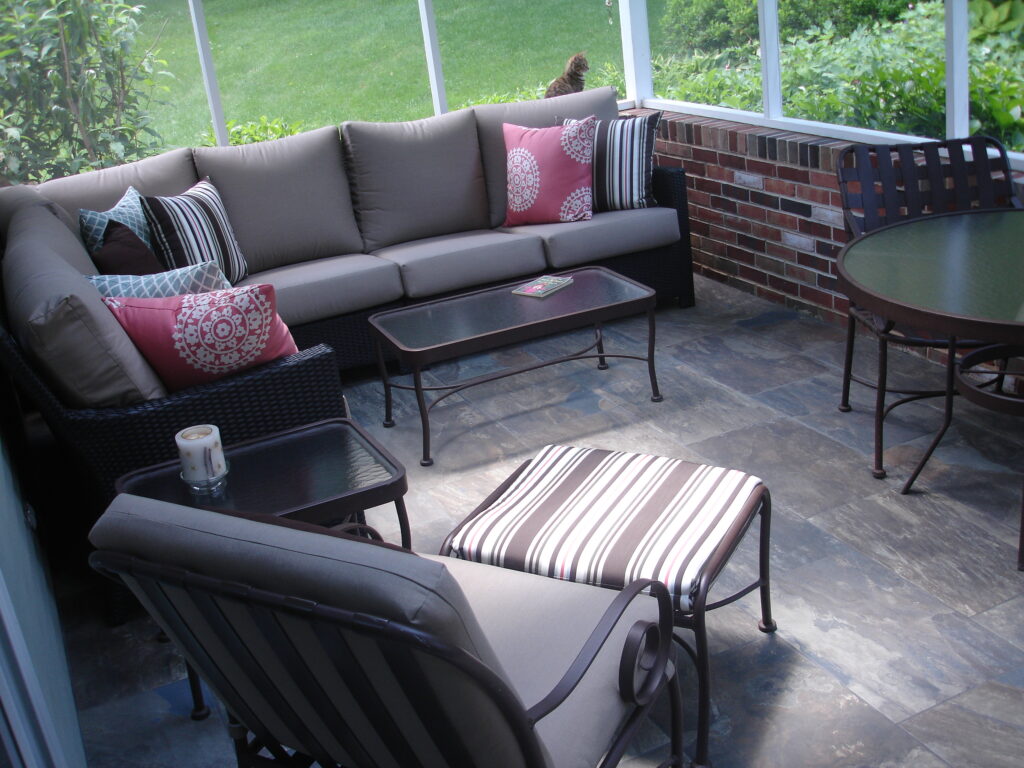 Custom outdoor cushions can be tailored to match the exact dimensions, style, and design preferences of your outdoor space, allowing for a cohesive and personalized look. They also offer superior quality and durability, as we take care to craft them from high-grade materials specifically chosen for outdoor use, such as weather-resistant fabrics and UV-resistant threads. Custom cushions, when fabricated with appropriate fabrics, will last for years with proper care and over-winter storage.
Outdoor Drapery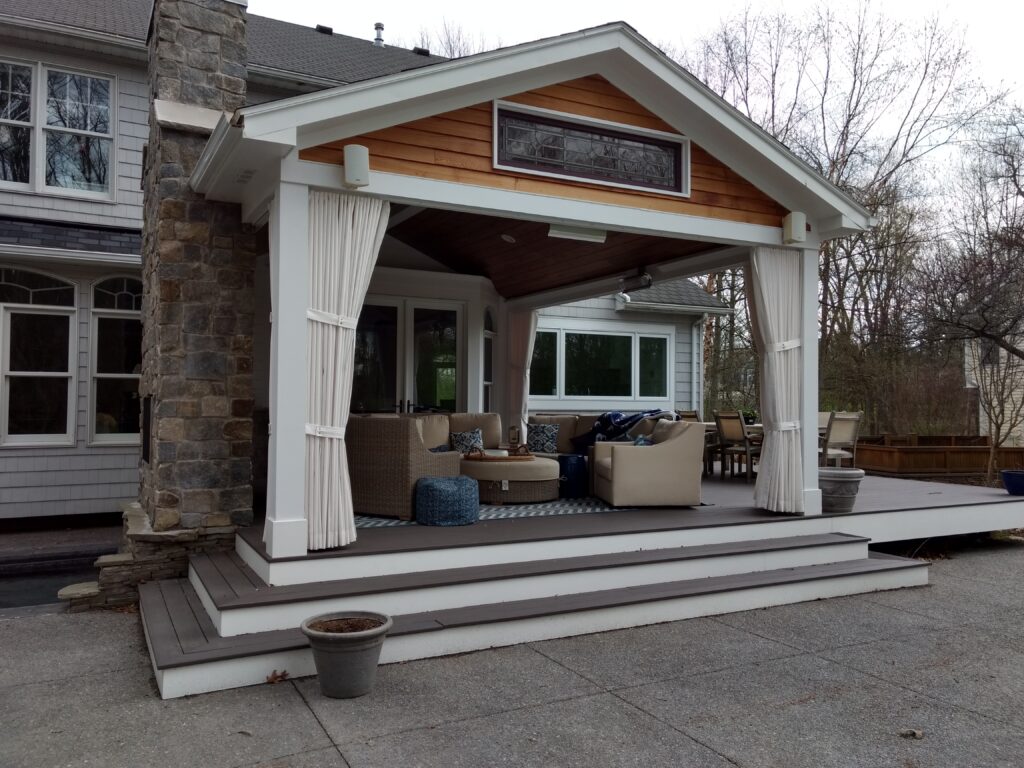 Outdoor drapes add to both the aesthetic and functionality of an outdoor space. When selecting outdoor drapery, it's important to choose fabrics that are specifically designed to withstand the elements. This means using materials such as solution-dyed acrylic or polyester. These fabrics are typically resistant to fading, mold, and mildew, and they look the same on both sides.
They can withstand exposure to sun, wind, and rain much better than other types of fabric. Outdoor drapery can be installed on a variety of structures, such as pergolas, gazebos, and porches using various types of outdoor-rated hardware.
Pergola Canopy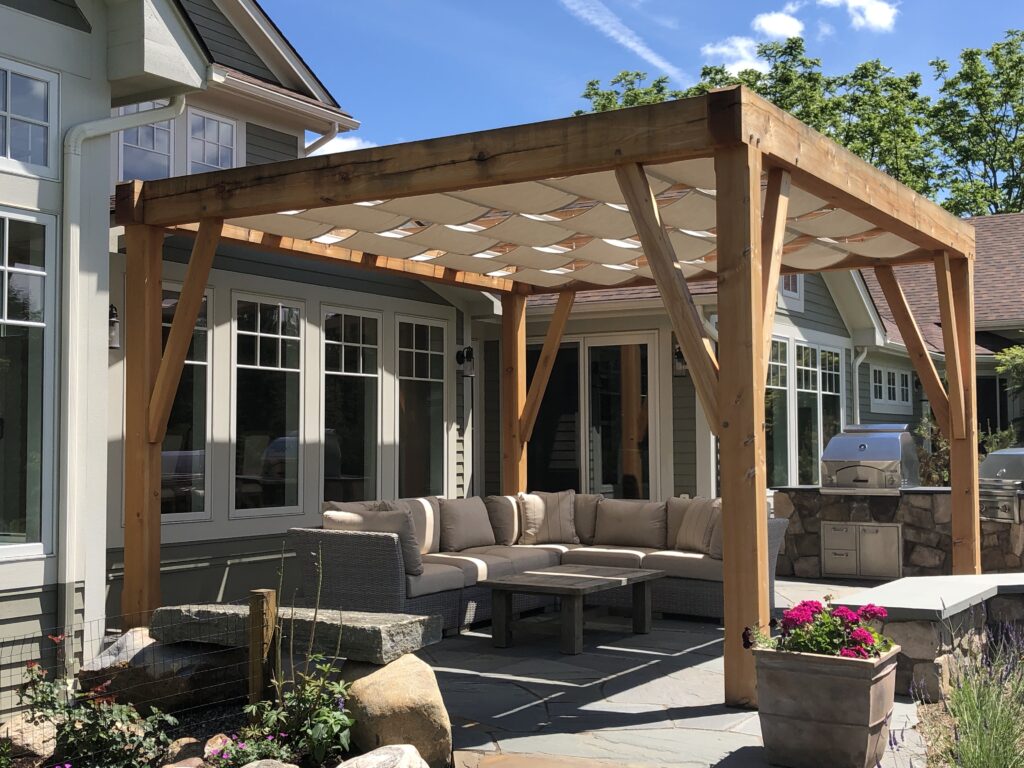 Do you have a naked pergola on your back patio? Are you wondering what the best solution for shade is? Many people invest in a pergola for the aesthetics, only to realize later it doesn't provide the sun and shade control they desire. The solution has to take into account the structure's design and also stand up to the outdoor elements of sun, wind, and rain. A pergola canopy is a great option.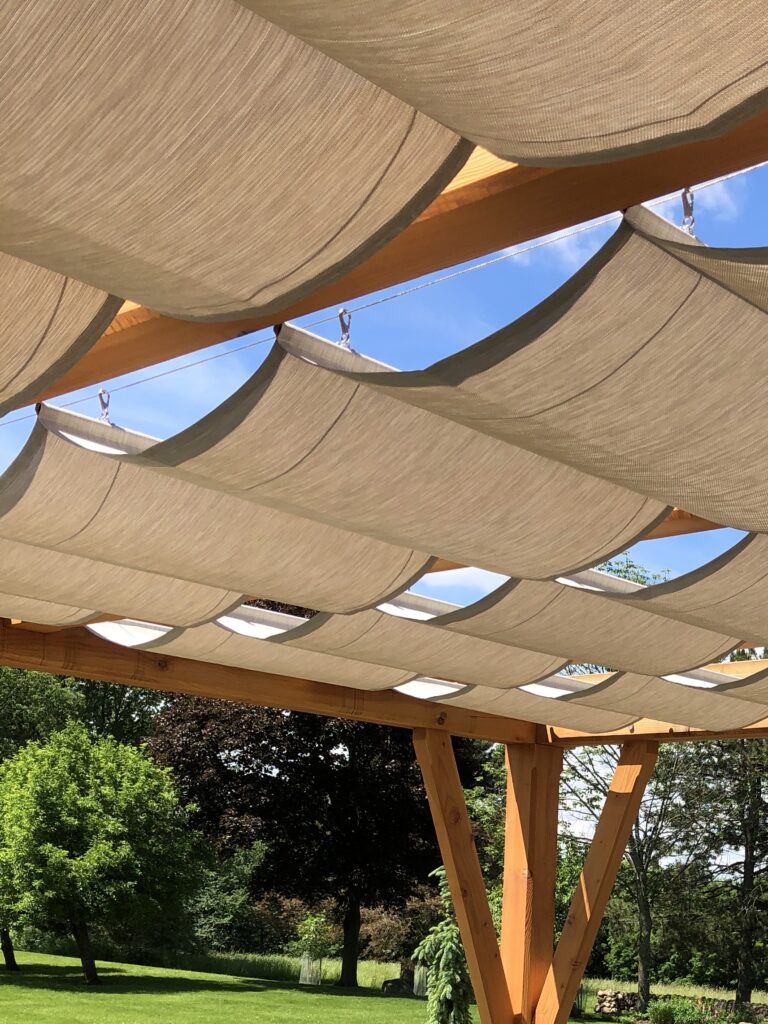 For this pergola, we chose Phifertex Plus for the canopy material. Phifertex Plus is a 100% vinyl-coated polyester mesh fabric that allows rain to drain through, but is engineered for exceptional sun-blocking capabilities with its tight weave.
It is coated with an anti-microbial protector to prevent the growth of mold and mildew. We used high-performance Profilen thread that has a lifetime guarantee and is 100% UV and weather resistant. And we used aluminum and stainless steel structural components.
Patio Shades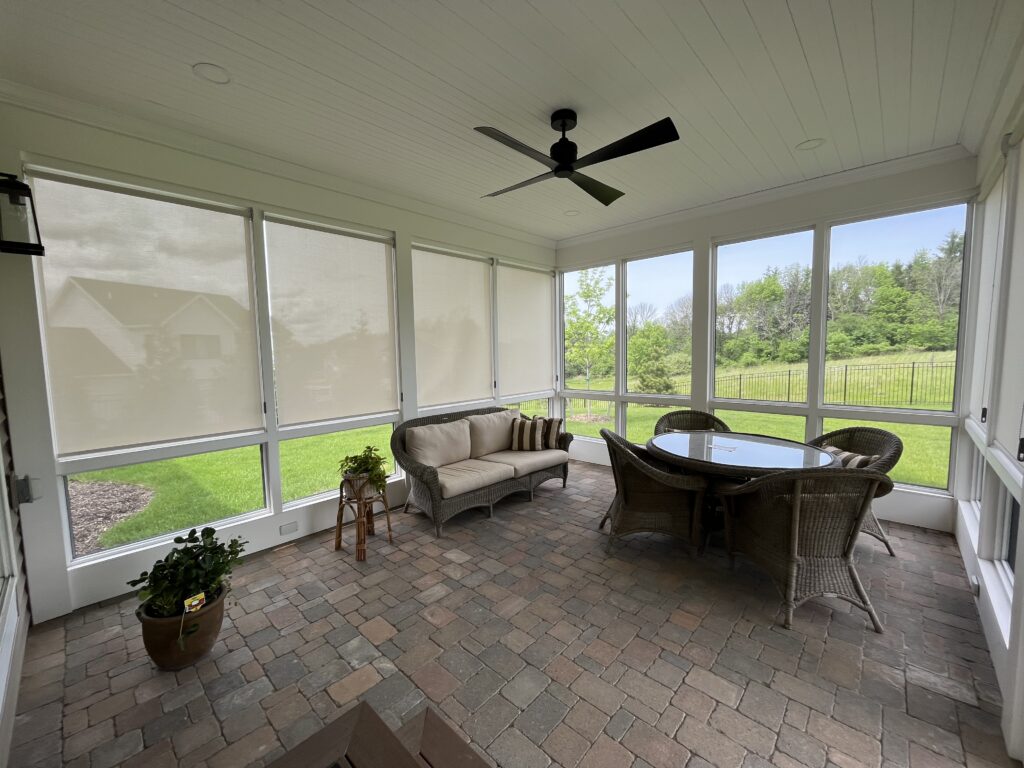 Outdoor patio shades can be added to a covered porch or existing pergola, retractable roof, or louvered roof. They are ideal for providing additional sun protection as the sun moves, especially for west-facing patios and porches. They block harmful UV rays and pets, without blocking the view!
Designing for Outdoor Living: Choose an Experienced Workroom Partner
Success, durability, and client satisfaction when designing for the outdoors starts and ends with specifying the right fabrics and professional installation. Our award-winning workroom is uniquely equipped to recommend the right fabrics and products for your outdoor living projects. We partner with design professionals who have the vision but need an engineered solution and expert guidance. Contact us to learn more about the support we can offer.