Do your clients have a lake house or vacation home in need of updating that is located in the beautiful Finger Lakes region of New York State? Does the project require the services offered by a custom drapery workroom?
Parkway Window Works can be your partner. Our custom workroom is located in Fairport, NY. That's just 30 minutes north of the Finger Lakes region. We frequently install custom window treatments in Canandaigua Lake, Seneca Lake, Conesus Lake and Cayuga Lake.
Our state-of-the-art workroom offers design professionals a one-stop-shop with unparalleled technical expertise and a hassle-free process that takes care of it all. We offer full-service measurement, fabrication, and expert installation for the entire spectrum of everything your design requires: roller shades, custom draperies, high tech motorization, custom soft goods, and more.
We are your go-to resource when you need a Finger Lakes custom workroom!
Roller Shades
When you have a lake house in the Finger Lakes with a view like this, the last thing you want to do is block the view. The windows were dressed with Hunter Douglas Designer Roller Shades with light filtering fabric. This blocks the heat and glare as the sun is setting, but preserves the view of the lake.
This three season room with a 10′ wide bench needed a custom fabricated window seat cushion, custom pillows, and chair cushions for the dining set. The designer specified snap tabs for the chair cushions to keep them firmly in place as the grandchildren move from lunch to swimming and back again throughout the day!
The designer used outdoor fabrics from Thibaut and Greenhouse to stand up to the summer sun. We particularly loved the Thibaut Turtle Bay in Marine Blue for one of the pillows. The perfect design and color for a lake house.
Ripplefold Draperies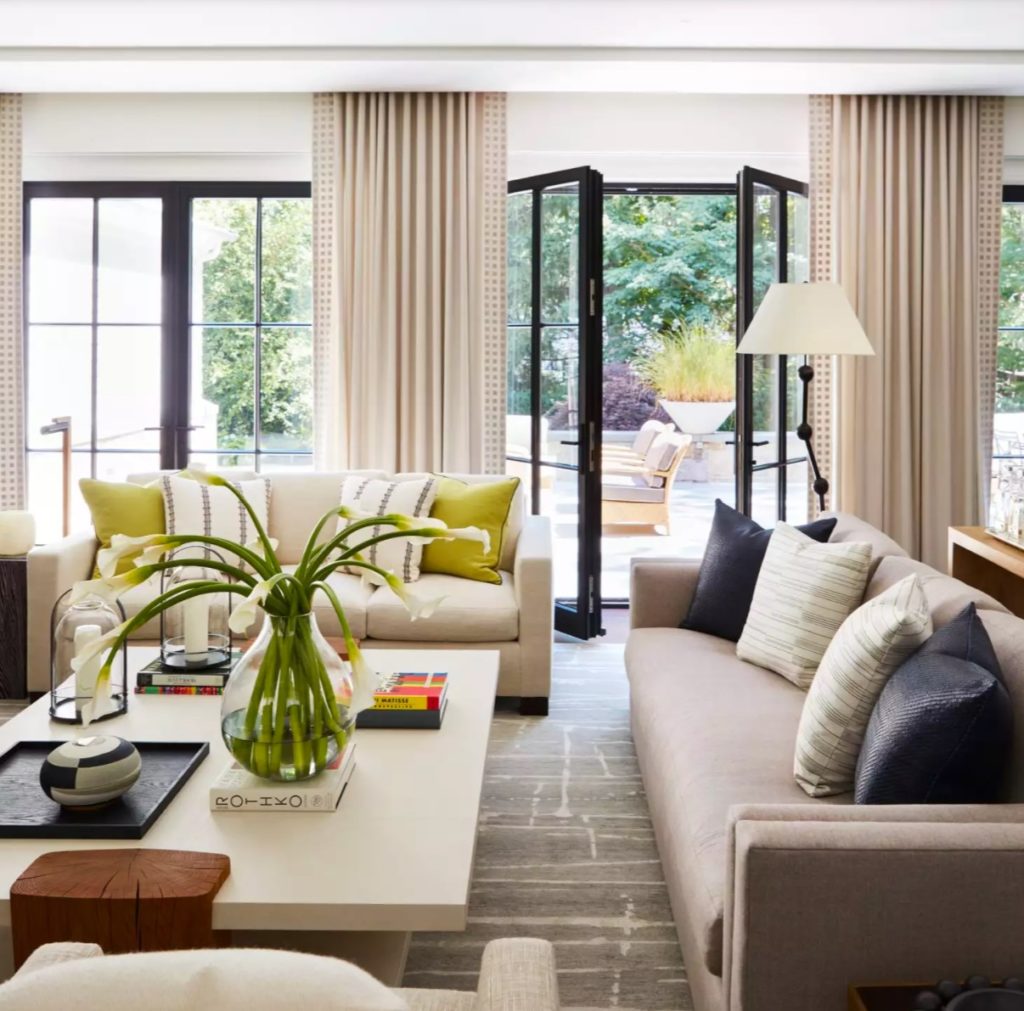 Nothing quite compares to the elegance of custom ripplefold draperies. They are contemporary and versatile, and a great choice for a lake house.
Ripplefold draperies have soft, ripple-like folds which flow smoothly from one end of the track to the other. The ripplefold drape has a uniform, rippled appearance from either side.
Ripplefold drapes can be installed on decorative or motorized hardware, and can be lined with light filtering or room darkening lining. This drapery style is suitable for most fabric, from lightweight sheer all the way to heavy velvets. This makes them a great choice for any room in your client's Finger Lakes home. Choose a heavier weight fabric with black-out lining for bedrooms, or a sheer light-filtering fabric for rooms with a view.
Motorization
There's nothing more luxurious or convenient than opening or closing your window treatments at a touch of a button. The good news is, nearly any kind of window treatments can be motorized! We have installed motorized blinds, shades, draperies, and roman shades.
This is especially convenient for your clients with homes in the Finger Lakes region. Tall windows, skylights, and rooms with many windows all benefit from a motorized window treatment solution. There are many options for installation and control of your client's motorized window treatments. Parkway Window Works is the Finger Lakes custom workroom partner you need.
Your Trusted Finger Lakes Custom Workroom Partner: Parkway Window Works
We have had the privilege of working with interior designers on projects located on Canandaigua Lake, Honeoye Lake, Keuka Lake, Conesus Lake and Seneca Lake. If your design firm is remote, no need to worry. We can provide you with "boots on the ground" support for your out of town projects. And we will coordinate with your other local contractors.
Our award-winning workroom is uniquely equipped to handle every aspect of all projects great and small. Parkway Window Works is your trusted and experienced custom workroom partner for busy interior design professionals with projects in the Finger Lakes. We do it all – soft and hard treatments, hardware, and motorization. Contact us to get started.