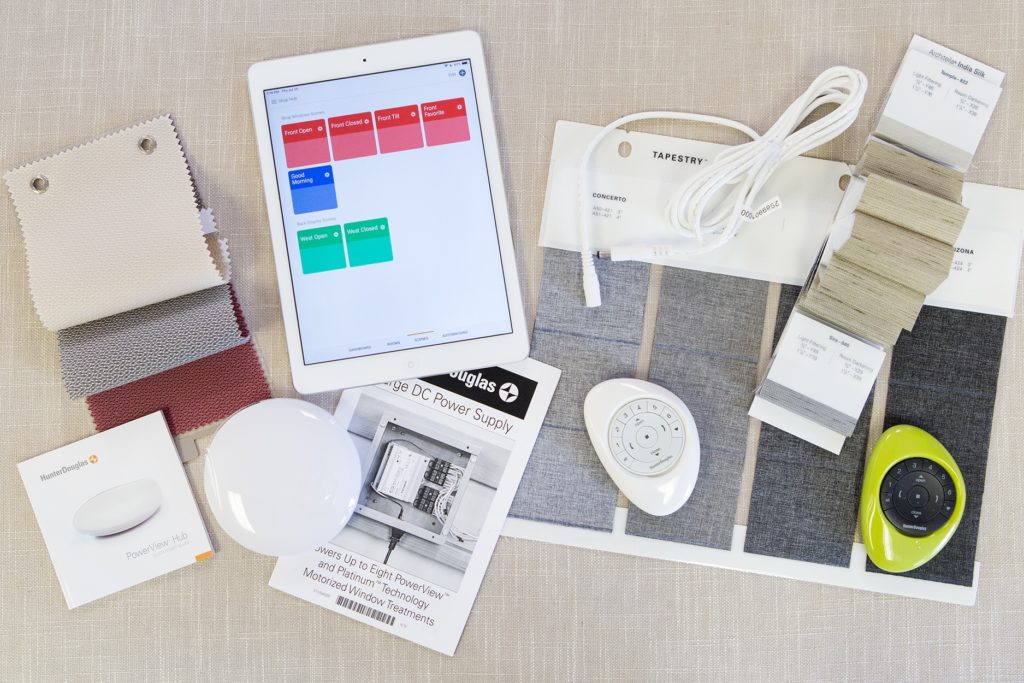 What window treatments can be motorized? In most cases, the answer to "Can this be motorized?", is a resounding "Yes!". Roman shades, drapery panels, roller shades, as well as blinds and shutters can all be motorized. Your clients will love the many ways in which motorized window treatments can enhance their at home experience. Here are a few great examples of how and where you can use motorized window treatments in your design projects.
Roller Shades
Roller shades provide a clean, modern, and minimalistic look. Perfect for this elegant bathroom, the roller shade installed here offers the ideal balance of light filtration and privacy. Because of the height of that big, beautiful window, motorization was the obvious choice for convenience and luxury.
Roman Shades
Roman shades continue to be one of the most popular custom window treatments, with good reason. They are versatile, working well with almost any decor style, and the customization options are endless. Fabrics, trims, lining, embellishments, and lift systems can all be specified to your client's needs and decor. In this room, with so many windows, adding motorization was practical and efficient. With so many hard to reach windows (no one wants to climb into the tub to put shades up and down!), motorizing these Roman shades was just what the client needed.
Drapery Panels
The top two reasons for motorizing window treatments are access and safety. That is, the ability to operate hard-to-reach shades and the elimination of the potential choking hazard from lift cords. Drapery panels can also be heavy and cumbersome to open and close manually, if they cover a large expanse or are fabricated from a heavy fabric. Motorized drapery panels effortlessly glide during operation, making them perfect for those rooms with large or wall-to-wall windows that need to be opened and closed frequently.
Shutters
Shutters are perfect for beach homes and coastal decor. They offer great light control with the ability to not just close or open the louvers, but you can also leave them at a tilt, providing privacy and letting the desired amount of light in. Adding motorization to shutters, like these Hunter Douglas Palm Beach shutters with PowerView automation, takes your client's space to the next level.
Parkway Window Works partners with busy interior designers to take their window treatment vision from concept to reality. We are here to help you work through all the technical questions related to your window treatment project down to the last detail, including motorization. Ready to specify motorized window treatments for your next project? Contact us to get started.
As an interior designer, why should you offer motorized window treatments to your clients? A better question is why not?